Buying Your First Condo – Should you Choose Resale or New?
With so many units available buying your first condo is can be exciting, nerve-racking and confusing all at the same time. I know I have been there twice. I have purchased both a resale and a brand new condo in the Toronto area.
I'm not a real estate agent or a mortgage broker, I'm probably someone just like you looking to buy his or hers first place. Maybe unlike you real estate is a bit of a side hobby of mine. I spend at least a couple hours a week checking out properties online both for sale and for rent in the area and enjoy reading daily real estate articles and blogs (such as buzzbuzzhomes). I was one of the first one of my friends to buy their first place so many people come to me for advice.
I view buying your first condo as not only an investment but as a sense of accomplishment. 
Why did I buy a condo over a house?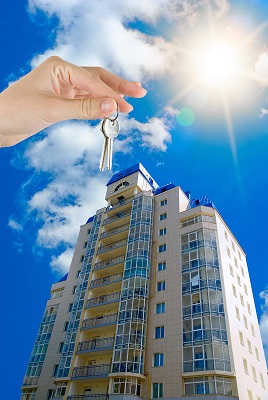 Simple answer – affordability. If you're a first time home buyer wanting to live in or near a major city changes are all you can afford is a condo, especially if you're doing it with a single income. Or if you have a heavy social calendar and home maintenance doesn't turn you on a condo is a better choice for you.
Condo Fees are Not Evil
I'm surprised how many people think condo fees are evil. Condo fees is a predetermined amount paid to your property management company that takes care of the maintenance of your property. They cover such things as lawn cutting, snow removal, painting and replacing of fences, gardening and roof repair (please consult each condo corporation for specifics). Ask me after a major snow fall if I like paying for a snow removal company to clear out the walk and driveways? The answer is obviously yes.
Condo fees tend to be higher in high rises because there are more amenities; and older buildings because condos fees usually increase each year. A well-managed condo with low condo fees is more appealing in a resale transaction, especially when you're selling or buying your first condo.
Types of condos

It is common when you hear the word "condo" to think of high rise apartment building. High rises are more common in downtown of a major city where land is expensive but they're starting to pop up in suburban centres. These condominiums usually have all the bells and whistles – fancy concierge service, gorgeous swimming pool, luxury gym and party room (not to mention high condo fees). Not all condos are high-rises many of them are low rises, towns and some townhouses. You can find them in the city but more likely in the suburbs where there's more space.

City vs. Suburbs
This is a strictly personal preference.  For me despite working downtown Toronto at the time of my first purchase I chose to buy in the suburbs.  I purchased my first condo which was a resale in a neighbouring city of the suburb I grew up in.  It was close to the GO train (the commuter train that would take me right downtown) which was perfect.  I bought in the suburbs because I wanted more bang for the dollar when it came to space.  Downtown I probably would have ended up with 500-600 square feet "shoebox".  Instead I got a two bedroom, two bathroom almost 1000 square feet condo town including a yard.  Plus I'm still close to my family and friends.
Resale vs. Brand New
As I previously mentioned, my first condo was a resale and the second one I purchased was brand new.  If you are debating where buying your first condo as a resale or brand new here are a few important things to consider.
RESALE
Pros
-          You can occupy almost immediately.
-          What you see is what you get (i.e. you aren't buying off of a builder's drawing).
-          You'll have a better idea of neighbourhood and what your neighbours might be like.
Cons
-          Unit is customized to someone else's taste (not necessarily a bad thing if you like it).
-          Depending on age of unit, older units you can expect to budget for repairs or replacement of owner owned items in the near future.
-          Require a lump sum down payment on closing (not an issue if you have the money).
BRAND NEW
Pros
-          "new and shiny" you're the first owner
-          You have more control on what your unit looks like (i.e. you pick out the design and decide on upgrades).
-          Pay deposit slowly and "buys time" to save up for additional funds for closing.
Cons
-          Cannot occupy immediately if in pre-construction phase and it is common to have the closing date delay for several months (even years is common).
-          You pay rent until the condo building becomes a registered condo corporation and then your mortgage takes in effect.  This can take up until 18 months.
Choosing to between resale and brand new when buying your first condo has a lot to do with your particular life circumstances.  If you're looking to move into someone right now your best bet is a resale.  If you are looking for more of an investment property or desiring to ease into home ownership a brand new will be a better choice for you.  If you do choose a brand new condo remember your life situation can change a lot between purchasing and closing date. 
Need inspiration towards buying your first condo?  Click here.
---
Back to SMART GOALS FOR SUCCESS homepage.