Creating a Vision Board for Success
When creating a vision board look for a sturdy surface such as a board (but can be an area or space such as your fridge door) where you place images, pictures and words of goals and things that will inspire you. They are considered very powerful since a lot of emphasis is placed on visualizing your goals in order to achieve them.
The idea here is to keep it in a place you will be able to refer to it from time to time, or quite possibly everyday. When you are looking at your vision board it will reinforce your goals and keep you on track.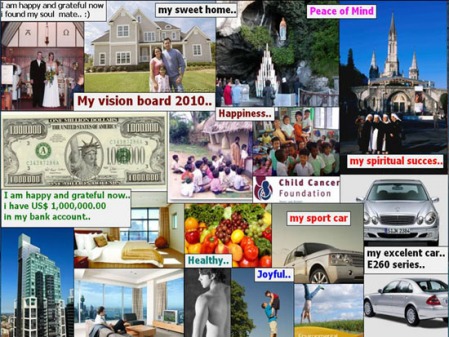 ---
Tips when creating a vision board:
1. Spend some time thinking about what goals you have and what is important to you in life.
Here are some commonly used ideas for vision boards:
- Is financial wealth important to you? How much money do you want to have? Create a cheque for a million dollars addressed to you. Or find a picture with someone holding a lot of money.
- Where do you want to live? For example, if you dream of living by the ocean, look for a picture of a home by the ocean. Pay attention to detail of your dream home. Do you want a cute and cozy house or do you want to live in a big luxurious home.
-  Who do you want in your life?  It is common to place pictures of a family or a loving couple if they desire to be married with children.  You can also put pictures of existing people in your life to reinforce their importance to you.
- What do you want to accomplish? If you hope to one day get your law degree find pictures of lawyers or legal books to place on your board. If you are involved in sports and hope one day that your team wins the championship cut out images of that. But creative and do not hold back. Remember vision boards are very powerful. Do not worry about how you are going to achieve it, just decide you want it.
2. When creating a vision board select a board or a space to place everything on. You want it to be accessible to you and to be within your view. If you spend a lot of time on your computer you can place some images on your computer's background.
3. Don't forget to use powerful words and quotes that will inspire you. Express gratitude and thanks for receiving or achieving your goal before you actually receive it. For example, in the above example the author is happy and grateful for having million dollars in his or hers bank account.
4. Finally, you can be the author one or subdivide your goals and dreams into multiple vision boards. Have fun and be creative!
Click for motivation on creating a vision board.

---
Back to SMART GOALS FOR SUCCESS homepage.