Food Should Taste Good Chips Really Healthy for You?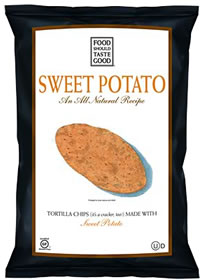 Food Should Taste Good chips is an oxymoron, right? It's is obvious though- shouldn't we only eat food we enjoy? That's not always the case. I find often times when I seek healthier options I sacrifice great taste. And sometimes the healthy food out there is actually composed of fillers and unnatural products (such as fake sugar, it has a lot of negative side affects).
With that said I have to tell you about a product I'm IN LOVE with called ironically Food Should Taste Good.  When ever I find a healthy food I'm crazy about I like to spread the word.  I discovered these amazing tortilla chips (or are they crackers) at a party.  These chips were purchase for my gluten sensitive friend.  One taste of the multigrain chip and I was hooked.
Sure there are lots of great "healthy" chips out there but what's appealing is that there's only a handful ingredients and I can all pronounce their names. How many shelf products can claim that?
Recently Charles Barkley, the former NBA basketball player, was asked in an interview what's his secret to his weight loss. His reply? He hilariously responded "if it tastes good I spit it out".
I definitely see where he's coming from but I tend to disagree. There's lots of great healthy food out there that tastes good too. This product is one of them.
Right now I'm hooked on sweet potato.
Food Should Taste Good chips are certified vegan, gluten-free and kosher. No artificial colours, flavours or preservatives and definitely not genetically modified.
The older I get the more concern I become about what I put into my body. I always use the analogy that we should treat our bodies the way we would treat a fancy sports car: make sure we fuel ourselves with high quality foods and that we attend all our schedule maintenance requirements.
Where to buy do you purchase these amazing chips?
I live in the GTA (greater Toronto Area) so I'm able to purchase them at a grocery store called Longos, as well as Whole Foods. I've seen snack size bags at Starbucks and I've heard you can get party size portions at Costco. The cost per bag is $3-$4 CDN. I know that's rather pricey compared to your average chip bag (those suckers can go on sale for dirt cheap) but they are worth every penny.
Check out Food Should Taste Good chips website for more locations in your area. You're even able to order online and if you sign up for their fan club you'll even receive a coupon.
Enjoy!
Click here for more diet inspiration.
---
Back to SMART GOALS FOR SUCCESS homepage.