Hot Yoga Tips For Beginners
Since I'm a yoga teacher I'm going to share my hot yoga tips before beginning your first yoga class. If you're like me, you might have 'googled' hot yoga and learned that you needed the following: a mat, a towel to wipe your sweat and a bottle of water.
But here's a few hot yoga tips the 'experts' forget to mention: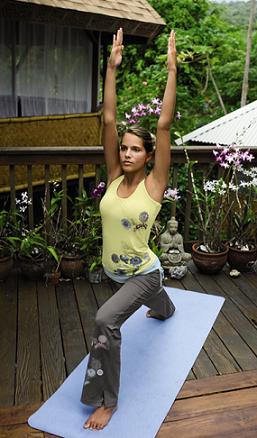 1. Arrive early to class, especially if you're just beginning yoga.
This will serve two purposes:
- You'll be able to choose your spot- the best real estate is up front. I know if you're just beginning yoga you probably want to hide in the back of the room. But the best place to be is up front so you can see the instructor and you do not have to stare at the person's butt in front of you. You want to be in the front because all the regulars go there. Unlike other classes you might have tried, yoga has the friendliest and most positive people. You'll make new friends in an instant.
- Another reason as to why you want get to class early when you're beginning yoga is that you want to get your body use to the humidity in the room. Come in at least 15 minutes early so you can roll your mat out and lie in savasana (aka corpse pose). Not only are you getting your body use to the temperature but you're allowing yourself to clear your mind.
2. The second hot yoga tip involves water.
Bringing water to stay hydrated in class is a must, especially if you're just beginning yoga. Having cold water will go a long way in keeping cool. How do you keep your water cool in a hot room? Plan ahead. The night before I grab a reusable sports bottle and fill it with ¼ to 1/3 of water and put it in the freezer. Right before class I pull it out and fill the rest up with regular water. Voila! You're water stays cool all class so you stay cool too and it last for an entire 75 minute class.

3. Regardless if you're just starting out in hot yoga or you're doing it for years, you may feel dizzy or have trouble withstanding the heat.
If you're feeling light-headed instructors suggest you go down onto your mat in child pose. I recently found out that this dizziness is a result of losing too much electrolytes in your body (the body's natural salt), which is caused when you train in heat or too much all together. I tried this great product called Nuun which are tablets that you can drop right into your water that help your body replace lost electrolytes. Since trying this product I have not experience any light headedness. You can rely on sports drinks too.
4. Having trouble staying cool in class?
You have to experiment which outfit works best for you but if I could make a suggestion try wearing moisture-wicking material which pulls the sweat away from your body. Most stuff sold at lululemon contains this type of material. I also suggest you wear capris or knee length shorts. The reason I suggest knee length shorts is that since your body gets sweaty you might find it difficult to hold poses such crow or tree. Having more material will help you keep your balance.
5. Finally, my last great hot yoga tip before beginning hot yoga is to combat slippery mats.
If you're just trying out hot yoga for the first time you probably not aware how slippery your mat gets from your own sweat. I invested in a great product called skidless , which is a towel that's made out of moisture-wicking material that grips right onto your mat. It's a bit pricy at lululemon for $55 Canadian but I own a very similar product I purchased at Homesense that works just as well.
Click here for more hot yoga tips.
---
Back to SMART GOALS FOR SUCCESS homepage.